AKZENT
Hotels - In a class of their own!
The AKZENT Hotels promise you exceptional hospitality and an authentic, regional ambience. Enjoy the warm and personal atmosphere provided by your hosts and experience our hotels' individuality and high quality of life firsthand. You can find AKZENT Hotels in the most beautiful vacation regions in Germany, as well as in many business hubs. While each one of the privately run AKZENT Hotels is unique in its own way, all of the hotels share the same dedication to familial warmth; individual and sophisticated room furnishings; and great regional and international cuisine. This is why they are all "in a class of their own"!
Trust Guarantee
We guarantee that you will always receive the cheapest price directly from us! Simply book your hotel online at www.akzent.de or over the respective hotel's individual website. This way, you can be sure you're not paying too much.

We promise!

We Present

News
Deutschlands schönste Ausflugsziele
April 29, 2022 09:54

Der Mai bringt uns nicht nur wärmere und längere Tage, sondern hat auch kulinarisch wieder viele Saisonstarts in Petto...
Biergenuss in den AKZENT Hotels 🤤🍻🥰
April 03, 2022 16:12

Die Temperaturen werden immer wärmer und was lässt sich hier natürlich am Besten tun? Ein schönes kühles Bier im eigenen Garten oder Biergarten genießen. Das leckere erfrischende Getränk ist auch das aktuelle Titelthema...
Der Frühling in den Startlöchern 🌸
March 03, 2022 08:56

Die Vögel zwitschern, die ersten Blumen sprießen und die Tage werden wieder länger. Während einige Regionen noch recht verschneit sind, so kommen in anderen bereits die ersten Frühlingsboten zum Vorschein. Was Sie zum Frühlingsanfang sonst noch so erwartet erfahren Sie unserer neusten Ausgabe der AKZENTe...

Vertrauens-
Garantie
Bei Direktbuchung über www.akzent.de
profitieren Sie von der Vertrauensgarantie
Wir garantieren
den günstigsten Preis!
Wir garantieren Ihnen, dass Sie immer die günstigsten Preise bei uns direkt erhalten! Sie buchen einfach über unsere Website www.akzent.de oder die hoteleigenen Websites. So können Sie sicher sein, nicht zu viel zu bezahlen. Versprochen!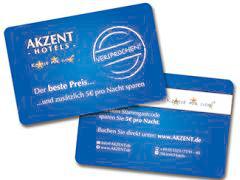 Die Stammgastkarte erhalten sie kostenlos
in allen AKZENT Hotels.
Zudem erhalten Sie als Stammgast
5€ Rabatt bei Direktbuchung.